Lastnosti
Najnovejša različica! (2023.11)
Trpežni materiali najboljše kakovosti
Para z izvrstnim okusom
Preprosta uporaba
Izredno velika komora
Jeklena hladilna tuljava
Edinstvena oblika
Za koga je vaporizer Plenty?
Kljub svoji napredni tehnologiji in inovativni obliki je vaporizer Plenty popolnoma primeren tako za izkušene vejperje kot začetnike. Čeprav je preprost za uporabo, nudi več kot dovolj nadzora in kakovosti, da zadovolji tudi strokovnjake za vaporiziranje.
Če so vam všeč skupinska vaporiziranja s prijatelji, potem boste z vaporizerjem Plenty uživali v kombinaciji izredno velike komore in napajanju prek vtičnice brez baterij. Njegova oblika spominja na električno orodje, izdelalo pa ga je isto podjetje, ki je odgovorno za legendaren vaporizer Volcano, zato je izvrstna izbira, če med uporabo cenite učinkovito delovanje in izvrsten okus.
Dosledno delovanje
Vaporizer Plenty je izdelan iz materialov medicinskega razreda najvišje kakovosti, kar zagotavlja dosledno in vrhunsko delovanje pri vsaki uporabi. Ima izredno vgrajeno notranjo komoro in zelo učinkovito tuljavo iz nerjavečega jekla za hlajenje. Inovativna tehnologija segrevanja prav tako nudi enakomerno segrevanje celotne količine vstavljenih zelišč, kar zmanjša tveganje za zažiganje in zagotavlja paro z dosledno izvrstnim okusom.
Popoln nadzor temperature
Temperatura med vaporiziranjem je najbolj pomembna spremenljivka gostote in okusa ustvarjene pare, zato Plenty nudi sedem izbir prednastavljenih temperatur. Na analognem merilniku ob strani izberite temperaturo, ki jo želite uporabiti (od 37 °C do 215 °C), in poglejte na merilnik spredaj, da si ogledate trenutno temperaturo.
Če se še vedno učite in niste popolnoma prepričani, katera temperatura je najbolj primerna za vašo uporabo, števec temperature na vaporizerju Plenty prikazuje uporabno zeleno območje toplote, ki vam pokaže najverjetnejšo optimalno temperaturo.
Brez baterij
Vaporizer Plenty je bil posebej izdelan za zanesljivo namizno uporabo, zato vam nikoli ne bo treba menjati baterij ali ponovno polniti naprave. Ker ga napaja elektrika iz vtičnice, je vzdržljivost tega vaporizerja izredna. Njegova celotna struktura je bila skrbno oblikovana z materiali najboljše kakovosti, ki zagotavljajo optimalno zanesljivost in dolgotrajnost – to pomeni, da bo to vaš vaporizer, ki ga boste nedvomno uporabljali leta in leta.
Preprosta uporaba
Čeprav so številni namizni vaporizerji morda videti malce bolj napredno od manjših prenosnih možnosti, je bil vaporizer Plenty oblikovan s poudarkom na preprosto uporabo. Samo vstavite svoja izbrana zelišča, povežite priloženo tuljavo, zamenjajte zgornji del in izberite nastavitev temperature. Po vklopu se ta vaporizer popolnoma segreje in začne ustvarjati paro najboljše kakovosti v samo nekaj minutah. Ko se bo čez čas temperatura začela zniževati, se bo vklopila indikatorska lučka na napravi. Ponovno pritisnite gumb na ročaju, da spet začnete postopek segrevanja, pred naslednjim vdihom pa počakajte na izklop lučke.
Garancija
Vsi vaporizerji Plenty, ki jih prodaja spletno mesto MagicVaporizers, pooblaščeni dobavitelj izdelkov Storz & Bickel, so pristni in podprti s 3-letno garancijo, omejeno na običajno uporabo.
Navodila za uporabo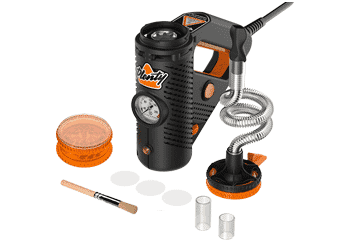 Vsebina
Vaporizer Plenty
Polnilna komora
Hladilna tuljava
Ustnik
Cevasti del (dolg)
Cevasti del (kratek)
Krtačka za čiščenje
Plastični mlinček
Mrežice (3)
Navodila za uporabo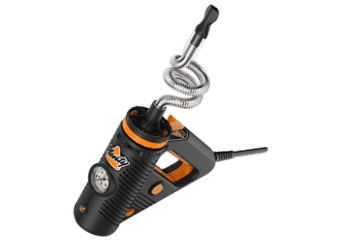 Tehnični podatki
Več informacij

| | |
| --- | --- |
| Velikost: | 5,2 x 5,0 x 22,6 cm |
| Teža: | 635 g |
| Segrevanje: | Konvekcijsko |
| Čas segrevanja: | 3 do 5 minut |
| Vir napajanja: | Vtičnica |
| Temperatura: | 37 °C do 215 °C |
| Proizvajalec: | Storz & Bickel |
| Garancija: | 3 leta |
| Država proizvajalka: | Nemčija |
Napišite svoje mnenje o Vaporizer Plenty