Features
Latest version with haptic feedback (2021.08)
25 seconds heat-up time
Ultra-portable
Swappable battery
Ceramic oven
Conduction heated
Who is XMax Starry V3 for?
The XMax Starry V3 is the perfect portable vaporizer for those looking to save money while still getting a quality product. It boasts features such as digital control, wide temperature range, swappable battery and haptic feedback (new for this version) that you won't find on other units at twice its price.
The sleek design makes it perfect for anyone looking to discreetly vape their favourite herbs without drawing too much attention from onlookers while they are out exploring new horizons; and as the battery is swappable you can always carry an extra one for those long trips!
High-quality build
To find a quality, affordable vape that is functional and aesthetically pleasing to the eye can seem like an impossible task. The XMax Starry V3 has been created with you in mind! With its aluminium body and ceramic zirconia mouthpiece, this stealthy vaporizer stands out from the sea of plastic shell vapes on the market at this price point.
Swappable battery
The XMax Starry V3 vaporizer is powered by a single 18650 type battery with a capacity of 2600 mAh that can be easily swapped out, giving it the ability to last much longer than your typical vape. During our testing, a fully charged battery lasted for seven 5-minute sessions at 190°C.
With swappable batteries, you can always have a fresh battery to swap in when your current one dies. This means that if you're currently running low on power and need an immediate boost of energy, all it takes is grabbing the nearest fully charged battery from your stash!
Adjustable and wide temperature range
The reliable ceramic oven in the Starry V3 can heat up to any temperature between 100°C and 240°C and is very fast at doing it so! Heating it to 200°C only takes 25 seconds and heating it to max temp (240°C) takes around 35 seconds.
Excellent vapour quality
XMax is well known among vapers on a budget for crafting reliable devices that taste good without costing too much, so they've done what we all expected from them - make another great one! Like their other vapes, the XMax Starry V3 is using a ceramic conduction oven which holds up to 0,5 grams of herb and produces flavourful hits quickly.
Your herbs or concentrate will never touch anything but clean materials like stainless steel and high-quality ceramic – ensuring that the vapour stays pure and full of flavours.
Easy to use
The Starry V3 is one of the most intuitive devices on the market. You can control three features with just a few buttons: turn it on/off, adjust temperature and set session time. Plus, there's also an OLED display to show you battery life as well as temperature readings so no more guessing! And if that wasn't enough for you, this device will vibrate gently when vaping the desired vaping temperature has been reached.
The bevelled oven ring makes loading easy, and the magnetic mouthpiece won't get lost while loading. With a ceramic zirconia mouthpiece that is strong and super smooth for comfortable use, you'll be able to preserve taste with every draw!
Ready for concentrates
The XMax Starry V3 is capable of vaporizing both herbs and concentrates with ease. The vape has a special concentrate pad designed for wax or oil vaping, making it perfect for those who like to mix their habits up from time-to-time.
Warranty
All XMax Starry V3 vaporizers sold by MagicVaporizers, an authorized distributor of XMax, are completely authentic and backed by a 1-year warranty on the device and a 6-month warranty on the battery.
Navodila za uporabo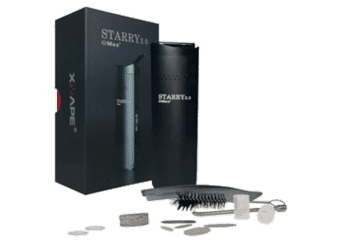 Vsebina
XMax Starry 3.0 Vaporizer
Cleaning Set (Tweezers, Brush, Tool)
USB Charging Cable
Wax Pad
Mouthpiece Screen
Chamber Screen (2)
Silicone Mouthpiece Cap (2)
Mouthpiece Tip O-Ring (2)
Instruction Manual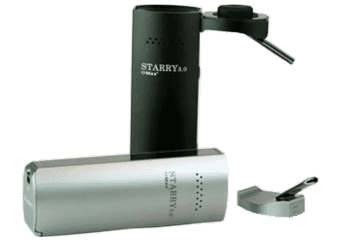 Tehnični podatki
Več informacij

| | |
| --- | --- |
| Velikost: | 3,5 x 2,4 x 11,0 cm |
| Teža: | 120 g |
| Segrevanje: | Conduction |
| Čas segrevanja: | 25 seconds |
| Vir napajanja: | Battery (2600 mAh) |
| Temperatura: | 100°C to 240°C |
| Proizvajalec: | XMax |
| Garancija: | 1 year |
| Država proizvajalka: | China |
Write your own review about XMax Starry V3