Features
Portable and durable
Conduction heating
Four temperature levels
Easy to use
Unique zirconia mouthpiece
3-year warranty
Who is the Boundless Vexil for?
The Vexil is a portable vaporizer that features four pre-set temperatures and holds up to 0,5 gram of herb. It's great for long-time vape experts or those looking to get started, offering simple yet powerful vaping sessions.
To ensure you get the most out of your product, the Vexil was created with both affordability and versatility in mind. This makes it perfect for almost anyone; on top of this, its metal casing provides portability while ensuring durability to last a long time.
Easy to bring
While most vapes this powerful are big and bulky, the Vexil is a pocket-sized vape making it discreet to use both at home and outside. It measures 4,5 × 2,0 × 10,8 cm and weigh 154 g, so it's easy to bring in your pockets or in smaller bags.
Flavourful vapour
Boundless Vexil gets great flavour because, unlike other vaporizers that heat the material only at the tip of a metal oven, this vape's ceramic heating chamber emits even and consistent conduction heat throughout the herbs.
The unique zirconia mouthpiece ensures all vapour travel through an isolated airflow path to cool before reaching your lips and throat for no harsh hits or unpleasant tastes. Thanks to a strong magnetic connection, you never have to worry about losing the mouthpiece when transporting the vape.
Four pre-set temperatures
The Vexil offers you a wide range of options when it comes to heat levels. Try out the four different temp settings: 192°C, 204°C, 212°C and finally at 225°C to get the most out of your herbs!
How to use the Boundless Vexil
Remove the mouthpiece.
Fill the oven with finely ground herbs.
Attach the mouthpiece back.
Press the power button five times quickly.
See the colour of the leaf on the front to see which temperature level is set.
You can change the temperature level by pushing the up or down button.
When the leaf stops blinking the temperature level has been reached.
The Boundless Vexil is now producing vapour from your herbs. Enjoy!
Efficient battery
The Boundless Vixel is powered by an 1800 mAh battery that lasts around 6 sessions on one full charge. It charges through USB-C connectivity, allowing for fast and convenient recharging times.
Heat control
Need to save battery life during a vaping session? The Boundless Vexil features heat control by clicking the power button three times in rapid succession so you can conserve power without having to turn the unit on and off.
Stealth mode
In stealth mode, you can use the Vexil with lights off. To enter into this mode all you have to do is hold down the 3 buttons for about three seconds after which it will remain on but without any light.
Warranty
All Boundless Vexil vaporizers sold by MagicVaporizers, an authorized distributor of Boundless, are completely authentic and backed by a 3-year warranty on the device when registered and a 90-day warranty on the battery.
Navodila za uporabo
Vsebina
Boundless Vexil vaporizer
Cleaning brush
USB-C charging cable
Mouthpiece screens (2)
Instruction Manual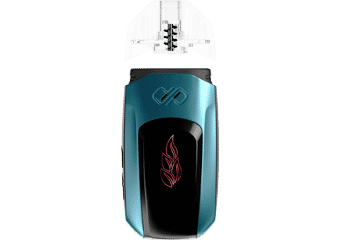 Tehnični podatki
Več informacij

| | |
| --- | --- |
| Velikost: | 4,5 × 2,0 × 10,8 cm |
| Teža: | 154 g |
| Segrevanje: | Conduction |
| Čas segrevanja: | 30 seconds |
| Vir napajanja: | Battery (1800 mAh) |
| Temperatura: | 192°C to 225°C |
| Proizvajalec: | Boundless |
| Garancija: | 3 years |
| Država proizvajalka: | China |
Write your own review about Boundless Vexil