Features
Newest version! (2021.08)
Sandblasted aluminium body
Airtight zirconia/glass vapour path
0.5 g glass-lined oven
"Smart Path", Precision and Boost mode
1-degree temperature accuracy (0 to 221°C)
30-second heat-up time
Charges in under 2 hours (USB-C)
3000 mAh battery (removable) for up to 2 hours of use
5-year warranty
Who is the DaVinci IQC for?
The Davinci IQC is for those who want to be in full control of their vaping sessions. There are many features that make it perfect for experimenting and tasting different flavours, like its zirconia flavour chamber, different heating modes and large temperature range. The precision mode also allows anyone to explore all temperatures without any hassle at all!
Sealed Zirconia/Glass Vapour Path
DaVinci's most recent innovation is an airpath that has been sealed with only the finest zirconia and glass. This means no metals or plastics will come in contact with your vapour, giving you a pure experience at every draw!
Exceptional Flavour
DaVinci's oven is like no other. The DaVinci IQC's glass-lined ceramic oven boasts a temperature control system with a 1-degree accuracy and it offers precision mode for the ultimate to the degree control as well as smart path mode which provides an easy-to-use yet exceptional way of experimenting with flavours.
Powerful and Removable Battery
The DaVinci IQC comes with a 18650, 3000 mAh rechargeable battery that is able to provide up to 2 hours of run time. This makes it a perfect companion for those outdoor days or long trips without access to power outlets.
The battery is replaceable too, so for an extra boost in power, carry some extras—you never know when they will come in handy!
You can use the up and down buttons to see how much battery power your vaporizer has left. It will also vibrate when there is only 10% remaining.
Water Pipe Adaptability
The IQC comes with a water pipe adapter that can be hooked up to any 10 mm water pipe for an even smoother and cleaner vapour experience. Letting the vapour travel through a water pipe allows it another layer of filtration, catching impurities before they reach you.
3 Modes to Control the Temperature
Smart Path Mode
With the Smart Path mode on your DaVinci IQC, you can experience four different settings that will gradually increase in temperature. The first setting is called "Flavour" and it starts at 176°C and ends at 188°C after 8 minutes.
There are three other modes: Mind, Body and Rest which each start at a different temperature but end up being 11 degrees hotter by the time they finish.
Precision Mode
This mode allows you to be in control of the temperature by a single degree. To enter precision mode, click on the power button once which will show the current temperature and quickly adjust it with up and down arrows to pick your preferred temperature.
Boost Mode
Pressing the red power button during your session will allow you to boost up to 210°C. Hold it for as long as desired and press on either of the arrows when done so that your IQC vaporizer returns from Boost Mode to the temperature set beforehand.
USB-C Charging
Charge your vaporizer in as little as 2 hours with USB-C charging. Plus, if you're on the go and need to power up your phone then its reverse charging capability is perfect for just that occasion!
App Capability
DaVinci's latest innovation is a web-based app for both iOS and Android OS which extends its capabilities not only onto computers but also tablets, smartphones, as well as desktops.
Using the app you can create custom Smart Paths, giving you the power to simplify your DaVinci IQC sessions by creating, naming and saving automatic temperature adjustments.
What's the difference between DaVinci IQC and IQ2?
The IQ2 and the IQC are very similar vaporizers. The major differences are that IQC has USB-C charging, as well as a soft material mouthpiece with an accompanying flavour chamber lid and water pipe adapter. It is however lacking the dose tracking software and AirDial technology which DaVinci IQ2 has.
Warranty
All DaVinci IQC vaporizers sold by MagicVaporizers, an authorized distributor of DaVinci, are completely authentic and backed by a 5-year warranty on the device and a 1-year warranty on the battery.
Navodila za uporabo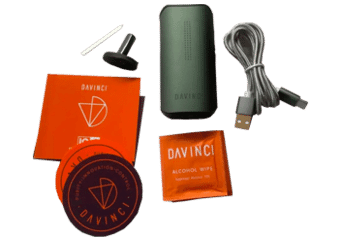 Vsebina
DaVinci IQC vaporizer
Battery
10mm Water Adapter
Extra Pick Tool
Brush Tool
90 cm Braided USB-A to USB-C Cable
Alcohol Wipes (3)
Instruction Manual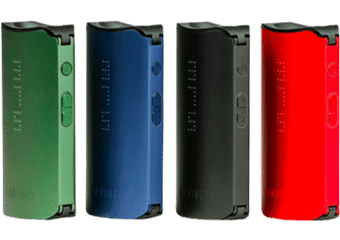 Tehnični podatki
Več informacij

| | |
| --- | --- |
| Velikost: | 4,4 × 2,5 × 9,2 cm |
| Teža: | 147 g |
| Segrevanje: | Conduction |
| Čas segrevanja: | 30 seconds |
| Vir napajanja: | Battery (3000 mAh) |
| Temperatura: | 0 to 221°C |
| Proizvajalec: | DaVinci |
| Garancija: | 5 years |
| Država proizvajalka: | China |
Write your own review about DaVinci IQC